6.5 HP Predator Engine- with clutch and chain
Current Top Sellers
$5.99 $2.88
$39.00 $19.55
$29.55 $19.55
$47.90 $24.90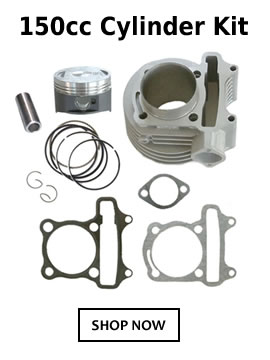 Customer Review


I am so happy I found you guys online. Not only are the parts available your prices are great and your staff and tech support are the best I have ever dealt with. Thanks so much.
JB in Tewksbury, MA
6.5 HP Predator Engine- with clutch and chain
Product Description
6.5 HP Predator/Honda Clone engine- gokart engine ready to bolt up and go, 3/4" crankshaft. Comes with 10T clutch for 41/420 chain and a 3' 420 chain with connector link.
Specify if you would like to change to a #35 clutch (12T) and #35 chain ( same price).
Shipping methods for the continental USA and Hawaii/Alaska:
* Listed shipping charges are for shipments for the U.S. and Canada.
* Shipments to all other countries will incur additional shipping charges, call for a quote.
* Parts are shipped via Fedex or USPS to your address.
* Fedex shipments require a street address.
* You must include a complete address.
* Your order will not be shipped without a full address.
* Same day shipping Monday thru Friday if placed before 1PM
* Standard business delivery is Monday - Friday
* Standard home delivery is Tuseday - Saturday

FREE GROUND SHIPPING FOR ORDERS OVER $200.00 WITHIN THE CONTINENTAL US ONLY!



Return Guidelines
No returns on electrical items.

1. The item(s) must be returned within 30 days of the order date.
2. Include the original receipt or a copy of receipt with the returned merchandise.
3. The item(s) must be returned without being used or damaged in any way.
4. There is a 15% restocking fee that will be applied to all returns.
5. Send the return freight PREPAID to our warehouse at:

GoPowerSports.com
Returns Department
1375 S. Main St.
Keller, TX 76248
Find Similar Products by Category