Product Description
Live Axle Kit will ship with "Adult Signature Required".
The axle generally arrives a day after the main parts due to the size of the box.

There are no returns on individual parts out of the kit.
This is a complete live axle kit. Kit includes everything you need to change out a 1" live axle.
1- 38" long live axle - 2" on each end is stepped down to 3/4"
2- Stock wheels are 6" live axle wheels with 14" off-road tires. Upgrade is 18" Tall 8" Wheel assemblies, you need to use 30 Series Torque Converter with these size tires.
1- 60 tooth sprocket for 41/420 chain with clutch, 54 tooth with torque converter
1- 4" live axle brake drum
4- 1/4" keys ( one for each wheel, sprocket and brake drum.
2- 3/4" washers and lock nuts for the ends of the axle
2- 1" lock collars for back of wheels. Picture shows six but current setup only requires two, sprocket and brake disc have set screws built in.
The upgraded brakes is our Go Kart Mechanical Brake Disc Kit- 9511,9598,TH1000.
If you are building a kart from scratch you may also want to add the hangers and flanges below to your order above.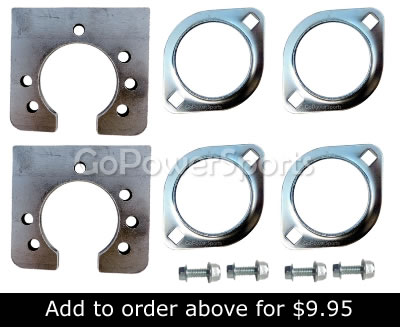 Custom Field
Product Reviews
Great product. Went together easy and it's doing...

Great product. Went together easy and it's doing great on my son's go kart

I will start off by saying the low star rating, is due to the tires that came with the kit. They are the size of my front tires. I talked to a rep. about the correct tire size and tread and got these little tires. They are not what I needed for my go kart. The axle and gears are very nice. The mechanical brake be prepared to alter alot on your go kart. I needed to weld an L bracket just to use it on my go cart. The mechanical brake I had to drill out the channel for the bracket to slide in. Due to the brake not being built properly.

I'm still waiting for the rest of my kit. Be sure to check all of the upgrades and mark SOMETHING cuz if not you will not receive the part at all

very cheap quality chain was cheap quality along...

i ordered a three hole bearing kit and received a two hole kit tried to arrange a return twice and no response will not buy here again

The kit was awesome. It came with all the parts I could think of. It didn't have directions. As a new builder it would have been nice to reference a picture or something for piece of mind.

"This is a big improvement".

This shipped on time and exactly what they said...

This shipped on time and exactly what they said it was! Few days it was on my doorstep

Paid an extra $250 for 2-4 day shipping and ordered it well over a week ago. Still have yet to receive the order. Been over 9 days now and still haven't received anything. Paid way too much money for this bullshit. Go fuck yourselves.

It's great.