Hey Race Team! Let's jump right in with the latest build. Up above is a 1960s Bird mini-bike…in shambles. This Bird mini-bike was being entered into the Muscle Mini Bike Build Off in the Off-Road class. Being the 22nd participant, this mini-bike soon became "O-22″.
Full-suspension on a mini-bike? Yes. Especially for off-roading. Not race legal but it felt right for this build. Upgraded the rear swing arm and modded a front suspension kit to hug the front tire just right.
(Someone made a comment asking where we found a tiny Predator 212 engine to fit on the back of this bike. Haha, good eye.)
Up above, we dress O-22 with chrome fenders and an old Speedway tank we had laying around the office. This tank was a gem, just sprayed some clear coat on it to preserve it's look.
Now we mock up the seat pan which also allows VooDoo Saddles to get to work on making the perfect seat for O-22. She's coming together nicely. Now that our frame is complete, we strip it down to send to the Powdercoater and Chromer.
Oooh Ahh, O-22 is back. And glossy. Looks at those rims! The name "Black Butta" gets thrown around and what a fitting name for the bike in the photo above.
We are at meat and potatoes portion of the build, the 22hp Small Block Racing Engine. Here's the spec list: (most parts linked to our website)
Tada! O-22 is finished and we could not be any more prouder of it. Not only aesthetically appealing but she rides like a dream.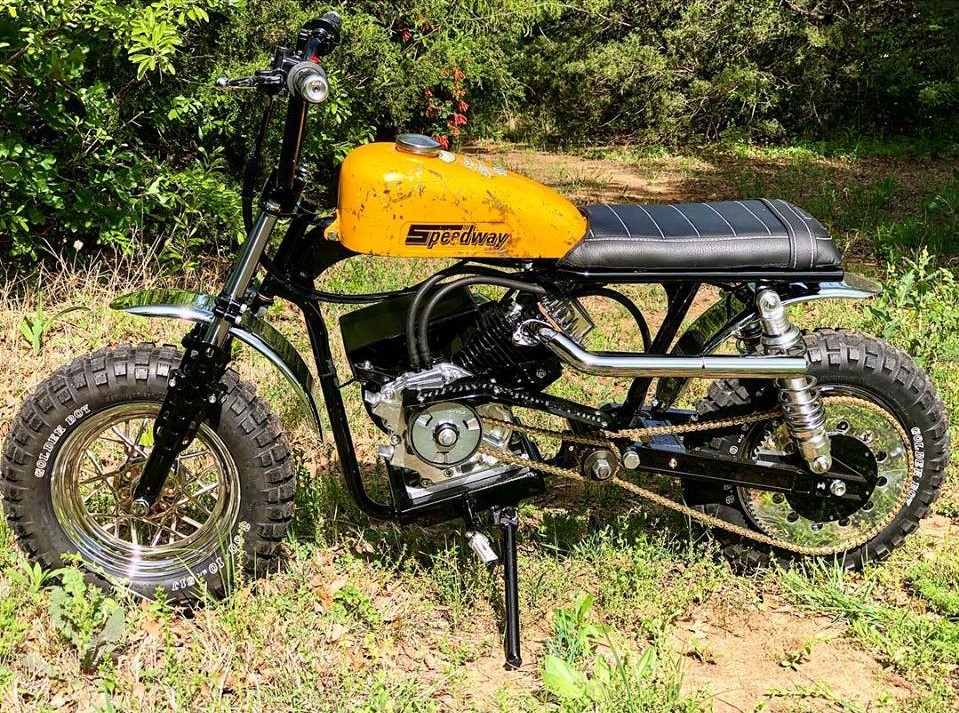 O-22 took 1st Overall in the contest and will be traveling to Texas Motor Speedway for Pate Swap Meet, Oregon for their Mini-Bike Gambler and Las Vegas for the SEMA show. Hope everyone gets a chance to check out the build in person.
Stay tuned and take care Race Team!