Product Description
Live Axle Kit will ship with "Adult Signature Required".
The axle generally arrives a day after the main parts due to the size of the box.

There are no returns on individual parts out of the kit.
This is a complete live axle kit. Kit includes everything you need to change out a 1" live axle.
1- 38" long live axle - 2" on each end is stepped down to 3/4"
2- Off-Road tires and wheels (these come mounted as shown); substituting to the larger 18" Tall 8" Wheel assemblies, you need to use 30 Series Torque Converter with these size tires.
1- 60 tooth sprocket for 41/420 chain with clutch, 54 tooth with torque converter
1- 4" live axle brake drum
4- 1/4" keys ( one for each wheel, sprocket and brake drum.
2- 3/4" washers and lock nuts for the ends of the axle
2- 1" lock collars for back of wheels. Picture shows six but current setup only requires two, sprocket and brake disc have set screws built in.
The upgraded brakes is our Go Kart Mechanical Brake Disc Kit- 9511,9598,TH1000.
If you are building a kart from scratch you may also want to add the hangers and flanges below to your order above.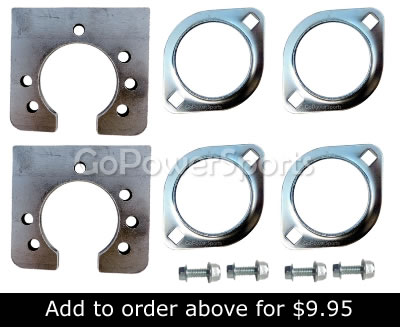 Custom Field
Product Reviews
Materials and hardware look good. Really impressed with the hub for the 54t sprocket. Tires are cool. Well worth the cost

Still building my cart so havent tested it yet

Live Axle Kit - Complete 38" Axle -

Live Axle Kit - Complete 38" Axle -

Very nice was not back install and go car so much...

Very nice was not back install and go car so much funnier now

Great quality parts everything bolted together perfectly and came organized in packages , I will definitely be ordering more .

YOU WERE VERY GOOD AT GAVING INFORMATION ;PARTS....

YOU WERE VERY GOOD AT GAVING INFORMATION ;PARTS. EASY TO WORK.

I am very satisfied with the live axle kit we installed. It was very simple and fast to get up and going again. We changed from a one wheel drive. Very great improvement. I have a 5 hp motor currently. I plan on improving the power and speed by installing a new 6.5 hp motor in the future.

nice parts ,

Live Axle Kit - Complete 38" Axle -

Live Axle Kit - Complete 38" Axle -