Product Description
Live Axle Kit will ship with "Adult Signature Required".
The axle Generally arrives a day after the main parts due to the size of the box, it has to be processed separately causing the delay.

Note: Upgrade 11x6-6 slicks for $30 comes with standard 6" steel wheels.
This is a complete live axle kit. Kit includes everything you need to change out a 1" live axle.
We made a special buy and are passing the savings on to you.
1- 38" long live axle - 2" on each end is stepped down to 3/4"
2- 1" bearings
2- 145/70-6 knobby live axle tires and wheels ( these come mounted as shown)- substituting to the larger 18x950-8 assemblies, you need to use TAV 30-75 with these size tires.
1- 60 tooth sprocket for 41/420 chain with clutch, 54tooth with torque converter
1- 4" live axle brake drum
1- 4" brake band
4- 1/4" keys ( one for each wheel, sprocket and brake drum.
2- 3/4" washers and lock nuts for the ends of the axle
2- 1" lock collars for back of wheels. Picture shows six but current setup only requires two, sprocket and brake disc have set screws built in.
If you are building a kart from scratch you may also want to add the hangers and flanges below to your order above.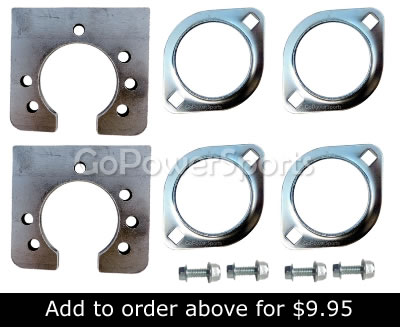 Custom Field
Product Reviews
the parts worked wonderfully on an old go cart

My grandson is having a ball on the go cart

Awesome kit. Sprocket is a little tight on the key due to the paint and coating. Expect to have to file it down some. Would have been 5 stars if it would have fit on the key without adjustment like the rest of components.(FYI the sprocket I got was a 60tooth in 35 chain like requested. Not one pictured)

Great Heavy Duty Live Axle Kit

This is a nice heavy duty live axle kit! Came with everything I needed for my live axle install. Just know if you upgrade to the disk brake, it is JUST the caliber, mount, key, and disk, you will NEED return spring, cable/rods, and bolts (if you are not just welding the mounting plate to frame/bracket). Would've given it 5 stars if the upgraded brake came with the return spring. Loved how heavy duty the axle is, this thing will definitely be able to take all the abuse I will put it through!

This axle kit is great! It worked perfect for my race tractor project and everything that I needed came in one box! ( the actual axle came seperate)

Great axle,great service and fast shipping.

Kit is great. Axle doesn't come with spacers to make up the difference between the threaded part of the shaft and the shoulder. Will have to make something to hold the wheel on. Got the oversize wheels option and didn't realize how wide they were, which cost me a little over half the price of the axle to ship it back to exchange it. I love the kit.

Exactly what I expected. Very good quality and excellent delivery time.

Fast shipping best price around and very high quality parts I would recommend to anyone that is serious about upgrading or building their own go kart

Was a great thing to buy, and it really helped out my cart... would recommend to about anyone