Product Description
Live Axle Kit will ship with "Adult Signature Required".
The axle generally arrives a day after the main parts due to the size of the box, it has to be processed separately causing the delay.
There are no returns on individual parts out of the kit.
This is a complete live axle kit. Kit includes everything you need to change out a 1" live axle.
The wheel in the 6" racing slick option will be BLACK in color.
The upgraded brakes is our
Go Kart Mechanical Brake Disc Kit- 9511,9598,TH1000.
1- 38" long live axle - 2" on each end is stepped down to 3/4"
2- 1" bearings
2- Off-Road tires and wheels ( these come mounted as shown)- substituting to the larger 18" Tall 8" Wheel assemblies, you need to use TAV 30-75 with these size tires.
1- 60 tooth sprocket for 41/420 chain with clutch, 54 tooth with torque converter
1- 4" live axle brake drum
1- 4" brake band
4- 1/4" keys ( one for each wheel, sprocket and brake drum.
2- 3/4" washers and lock nuts for the ends of the axle
2- 1" lock collars for back of wheels. Picture shows six but current setup only requires two, sprocket and brake disc have set screws built in.
If you are building a kart from scratch you may also want to add the hangers and flanges below to your order above.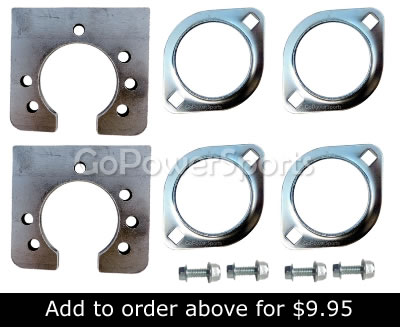 Custom Field
Product Reviews
Live Axle Kit - Complete 38" Axle -

Live Axle Kit - Complete 38" Axle -

Installed and finished..perfect!

Nice set of parts, Just missing a set screw for the brake drum. Also nice would be a 420 chain and link to be cut to length.

Great Kit!
All solid parts, everything packaged nicely.
Unbelievable customer service!
Almost instant response from email.
We'll definitely be ordering again when it's time for
the next upgrade!

Fast shipping. Everything was in the box.

Fast shipping. Everything was in the box.

¿Tienen exportación a México?

Everything was undamaged even though packaging had a rough trip. All parts requested were there and just what we needed to upgrade the yard cart!

i ordered this 5 weeks ago. Paid for 3 day shipping and still haven't received the package. I have sent emails with no return. I have called numerous times only to be immediately sent to an automated voicmail. I received an email claiming package was shipped 15 days after i ordered it. So i then called Fed ex with shipping info and asked of i could pick it up to speed up the process. Package was never delivered to pick up location. So bottom line i never received my package and now no longer need my parts. So i am now out money and my time. Horrible experience dont think i would ever order from here again. Fed Ex seems to be part of the problem as well.

still have not got the parts i...

i oredered a live axle kit with a 42in axle brakes all the keys and bearings and the wheels and tires for my kids go cart i get the first package of parts wrong axle is in the package its 38in asked for a 42in and no brakes or keys for shaft so i email them and say hey you sent me the wrong shaft and no keys or brake parts the say they will ship the right parts to me cool well i got the parts yesterday still no brakes or keys axle is there but that dose
me no good with out brakes so i will not be buying any more parts i will find somewhere else

Live Axle Kit - Complete 38"...

Great kit! Went together really well, and now my go kart is 2 wheel drive instead of just 1 wheel drive.