Product Description
Live Axle Kit will ship with "Adult Signature Required".
The axle generally arrives a day after the main parts due to the size of the box, it has to be processed separately causing the delay.
There are no returns on individual parts out of the kit.
This is a complete live axle kit. Kit includes everything you need to change out a 1" live axle.
The wheel in the 6" racing slick option will be BLACK in color.
The upgraded brakes is our
Go Kart Mechanical Brake Disc Kit- 9511,9598,TH1000.
1- 38" long live axle - 2" on each end is stepped down to 3/4"
2- 1" bearings
2- Off-Road live axle tires and wheels ( these come mounted as shown)- substituting to the larger 18x950-8 assemblies, you need to use TAV 30-75 with these size tires.
1- 60 tooth sprocket for 41/420 chain with clutch, 54 tooth with torque converter
1- 4" live axle brake drum
1- 4" brake band
4- 1/4" keys ( one for each wheel, sprocket and brake drum.
2- 3/4" washers and lock nuts for the ends of the axle
2- 1" lock collars for back of wheels. Picture shows six but current setup only requires two, sprocket and brake disc have set screws built in.
If you are building a kart from scratch you may also want to add the hangers and flanges below to your order above.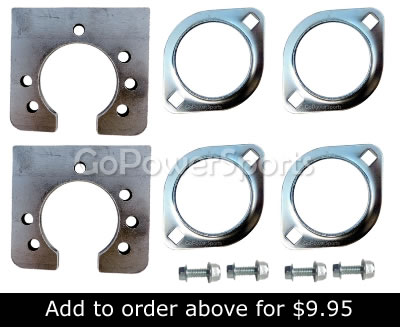 Custom Field
Product Reviews
Shipped in a timely manner and parts are more than easy to install..THANK YOU GO POWER SPORTS!!!

Hope you're not in a hurry.

Ordered a kit, it took 9 days to receive my order (it's Texas to Wyoming, not like I live in Alaska), but with this crap going on, I understand. Then when I opened the order, the back wheels were completely wrong, and not even close to what supposed to come in the kit. I called them them the next day (a Wednesday), and talked to very informative person on the phone that understood immediately what the problem was. He said he'd put the order in right now, and the right parts would be on the way that day. I was happy because with Memorial Day holiday approaching, I figured the parts could at least be in transit during the long weekend. He also said I would be receiving an email letting me know stuff was shipped. 2 days go by, and I had seen nothing. Finally I call back on that Friday and talk to a different person who said it looked like they were working on the order. I received an email late that afternoon saying that the parts had shipped. It is now 5 days later, and the parts have managed to make the grueling journey from their warehouse to Fort Worth. I originally ordered this kit for a specific date (that was like 3 weeks away), figuring I'd have plenty of time to finish this. I understand things happen, but this is getting a bit much, especially considering I ordered $500 worth of parts from these guys. Hopefully all will work out, but I'm disappointed considering all the good things I've heard about these guys.

Order was not complete. More parts coming, I guess.

Order was not complete. More parts coming, I guess.

Live Axle Kit - Complete 38" Axle - 145/70

Live Axle Kit - Complete 38" Axle - 145/70

super easy DIY and mounted up perfectly first try on my 1 wheel peel swap

I live in MN and receive my shipment in about 4 days, and that's during this pandemic we are current in!!!

Great parts & super fast shipping.

Good service quick shipping

Easy set up and works great.