10 Raffle Minibikes For 1 Cause
Howdy, Race Team! I am excited to share our wonderful experience building 10 minibikes to raffle off for Teen Life.
It all started with the idea of doing something heartfelt and meaningful for today's youth. Tim Yochum and David Merrell, owners of GoPowerSports, wanted to create an opportunity for teenagers to be heard and build a community to rely on. That's when we came up with the idea of creating ten gorgeous-looking minibikes and raffling them off worldwide.
We started by researching different minibike models and styles that we personally loved. We finally decided on a theme that we wanted every minibike to have. They must all have a Chrome frame and be Rascal & Lil' Rascal Frames. Then we contacted local suppliers to help us achieve the desired look. We had to go through several iterations to get the design right. Still, eventually, we were able to build 10 amazing minibikes.
The building process was both challenging and rewarding. Ten unique minibikes in one year were going to be a difficult task. We had to be careful with each part and ensure everything was assembled correctly. But seeing the final product was worth all the hard work. The minibikes looked terrific, and we knew they would make great prizes for the raffle.
We decided to partner with Teen Life, a non-profit organization that provides support and resources to teenagers facing challenging situations. We knew our project would be a perfect fit for their cause and wanted to help raise money to support their programs.
The raffle was a huge success, and we raised substantial money for Teen Life. But more importantly, we were able to bring joy and hope to the teenagers with the earnings. Seeing the smiles on their faces made all the hard work worth it.
Overall, building 10 minibikes for the Teen Life raffle was a great experience. We combined our passion for building with our desire to give back to the community. We hope to continue doing projects like this in the future and make a positive impact on people's lives. Check out these 10 Chrome Raffle Minibike beauties below.
Raffle Minibike #1|Lil' Rascal Christmas Edition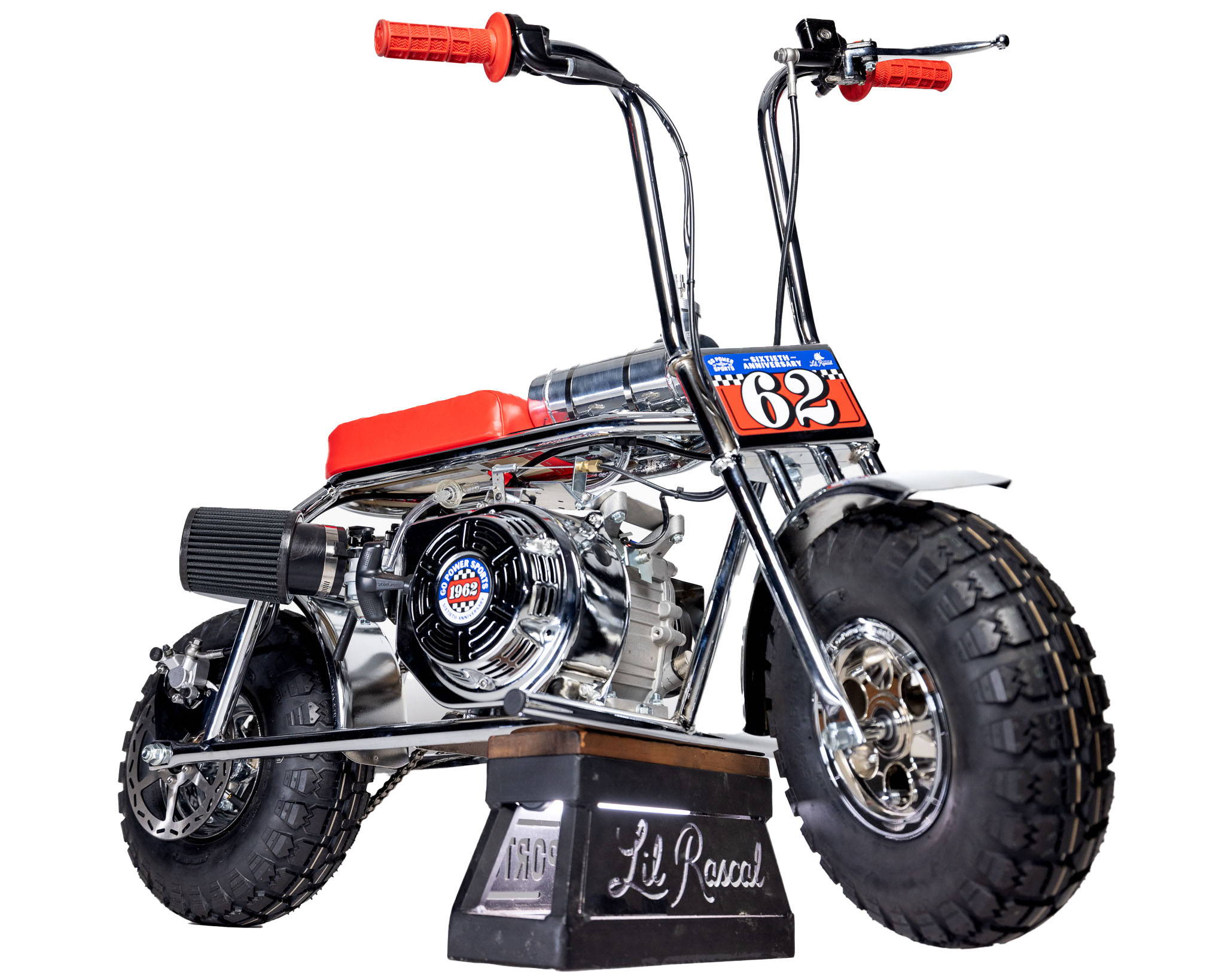 Inspired by the Christmas Edition Honda Z50 Dirt Bikes from the 80's. Red, White, Blue, and Chrome Lil' Rascal Minibike. This minibike was raffled off at the 2022 Pate Swap Meet.
Raffle Minibike #2|Rascal Christmas Edition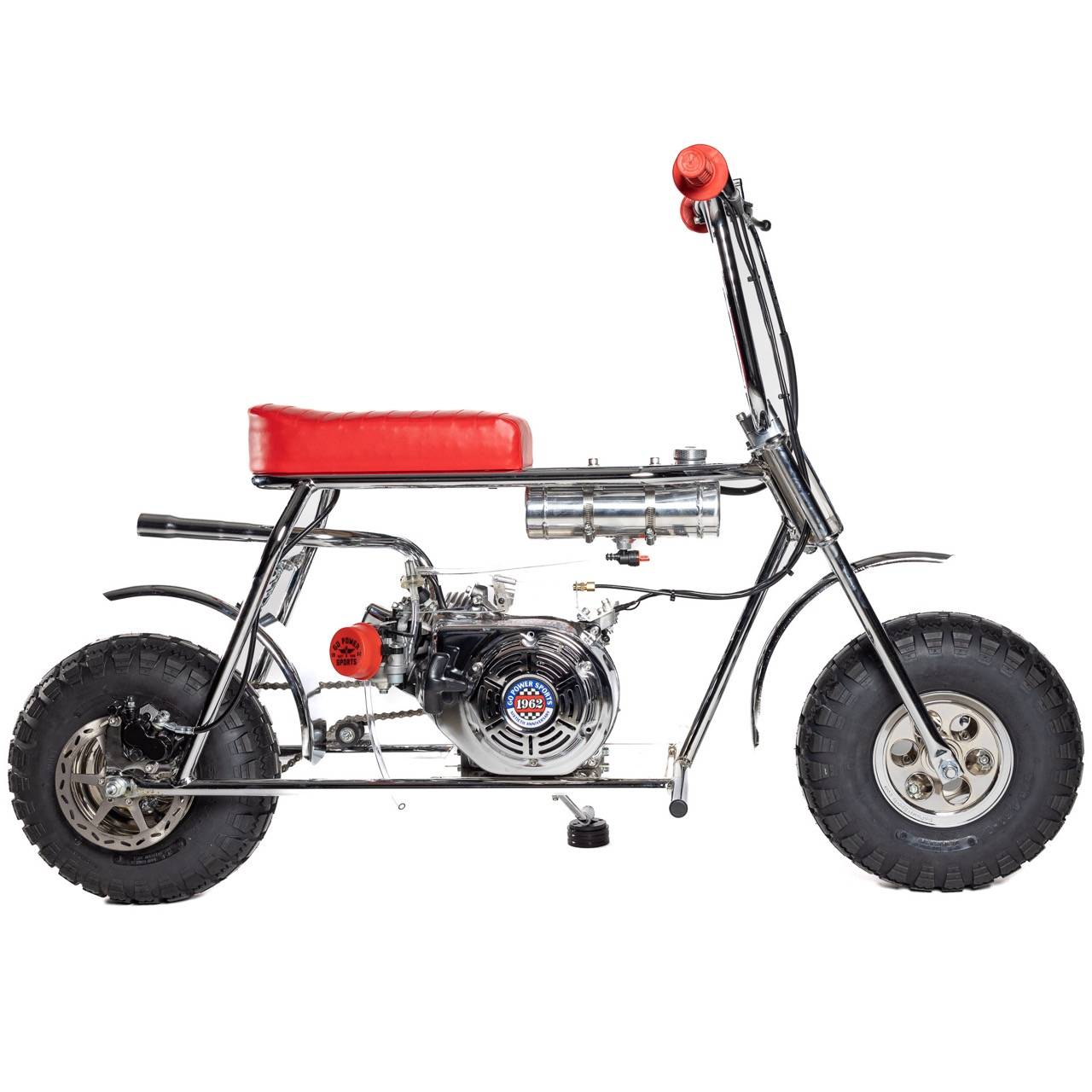 Bigger version from #1, this Rascal Minibike was raffled off at Rockwood Go-Karts in May 2022. Fun fact, the winner, Dottie, just wanted to donate to Teen Life. We currently have this minibike at the GPS Shop in Keller, Texas.
Raffle Minibike #3|"Capone"
This little, murdered out masterpiece looks pretty gangster. Imagine mobbing around the city on this Black and Chrome themed minibike. Must be why we nicknamed it "Capone."
Raffle Minibike #4|Rascal Black & Chrome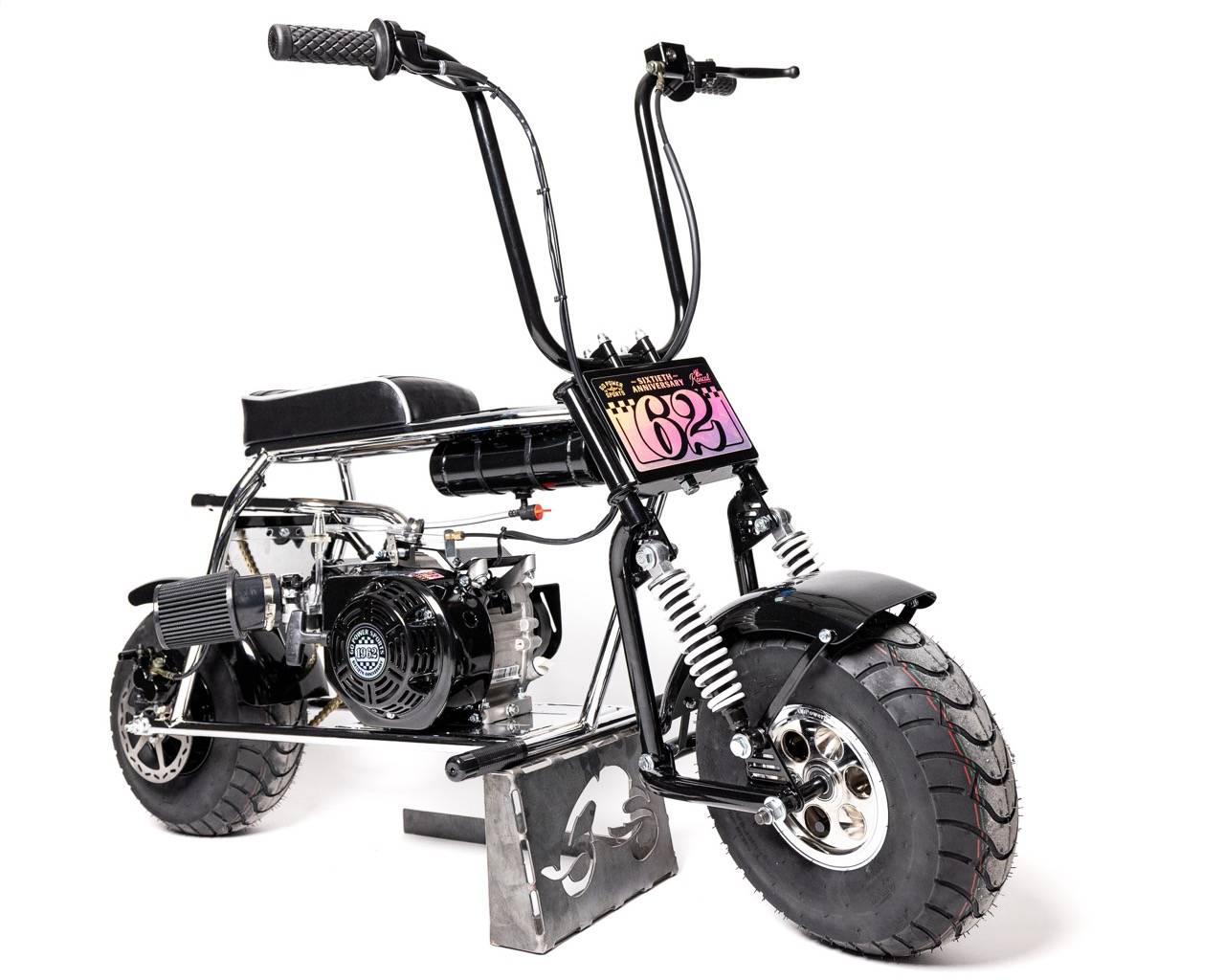 Kept the Black and Chrome theme going with the bigger Rascal Minibike. This raffle minibike is the first to see a Leading Link Suspension and holographic stickers.
Raffle Minibike #5|Lil' Red Rascal
This Li' Red Rascal has a bit of an Iron Man theme to it. This minibike made the trip out to Joe's Minibike Reunion in 2022 and to the Teen Life Banquet. Oh, by the way, all these minibikes come powered with a Stage 1 Tillotson 212 Performance Engine.
Raffle Minibike #6|Off-Road Rascal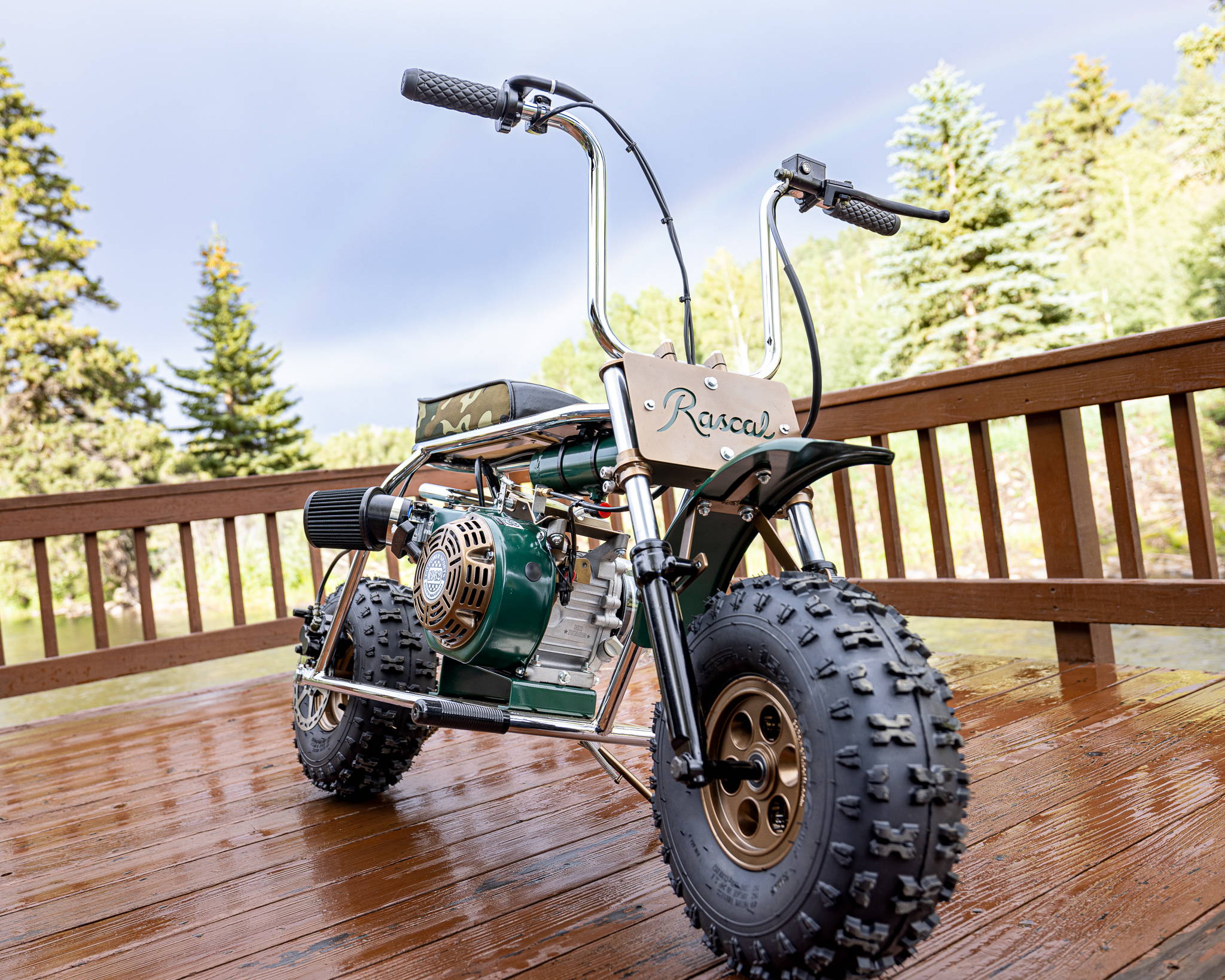 Raffle Minibike #6 had a Forest Green and Bronze, Off-Road theme. Front suspension kit, 15" Cleat Tires, and a beautiful Bronze package was perfect for outdoor adventuring. We took this minibike out to Colorado and had help from our buddies from Cars and Cameras to help raffle this minibike live on Youtube, Facebook, and Instagram.
Raffle Minibike #7|Las Vegas Lil' Blue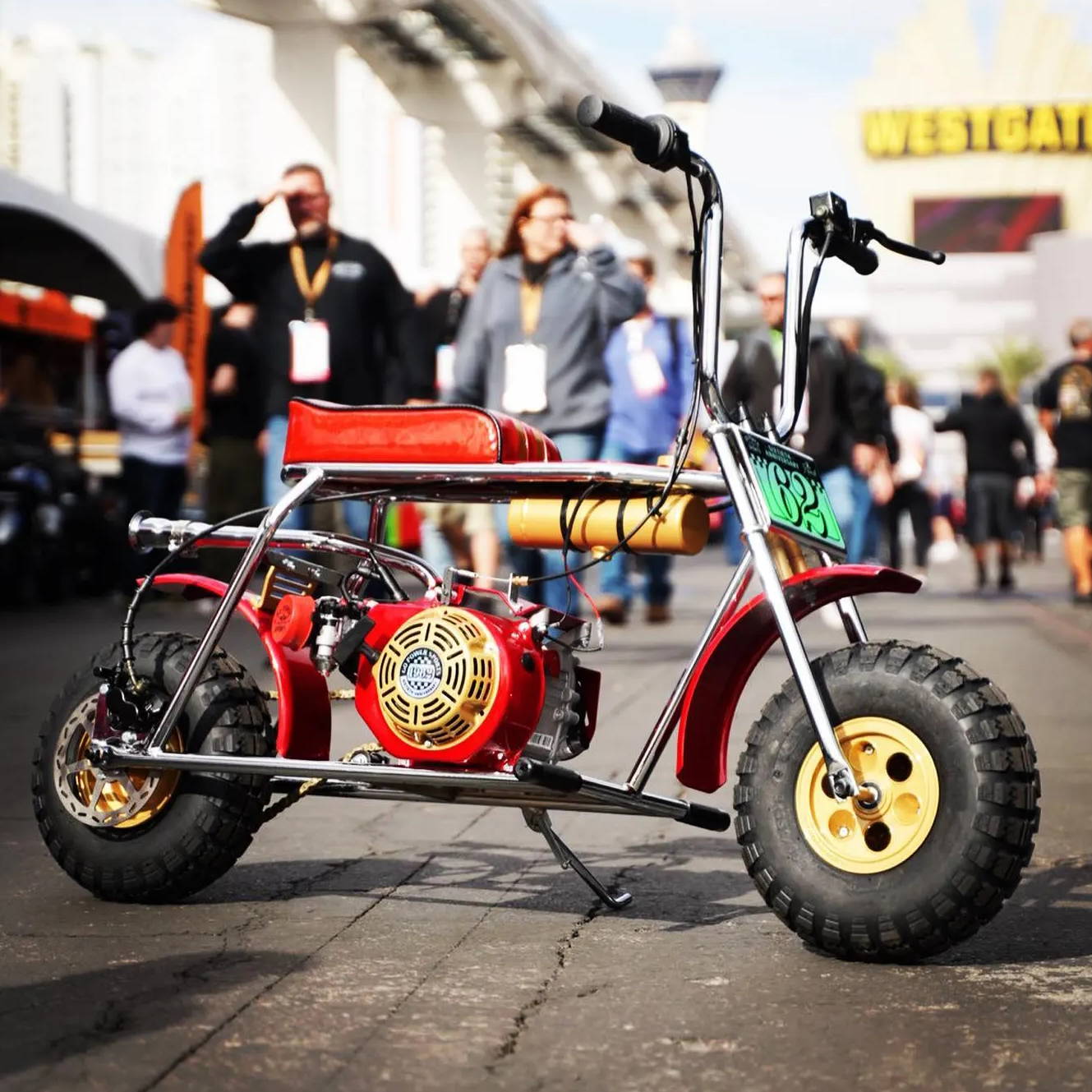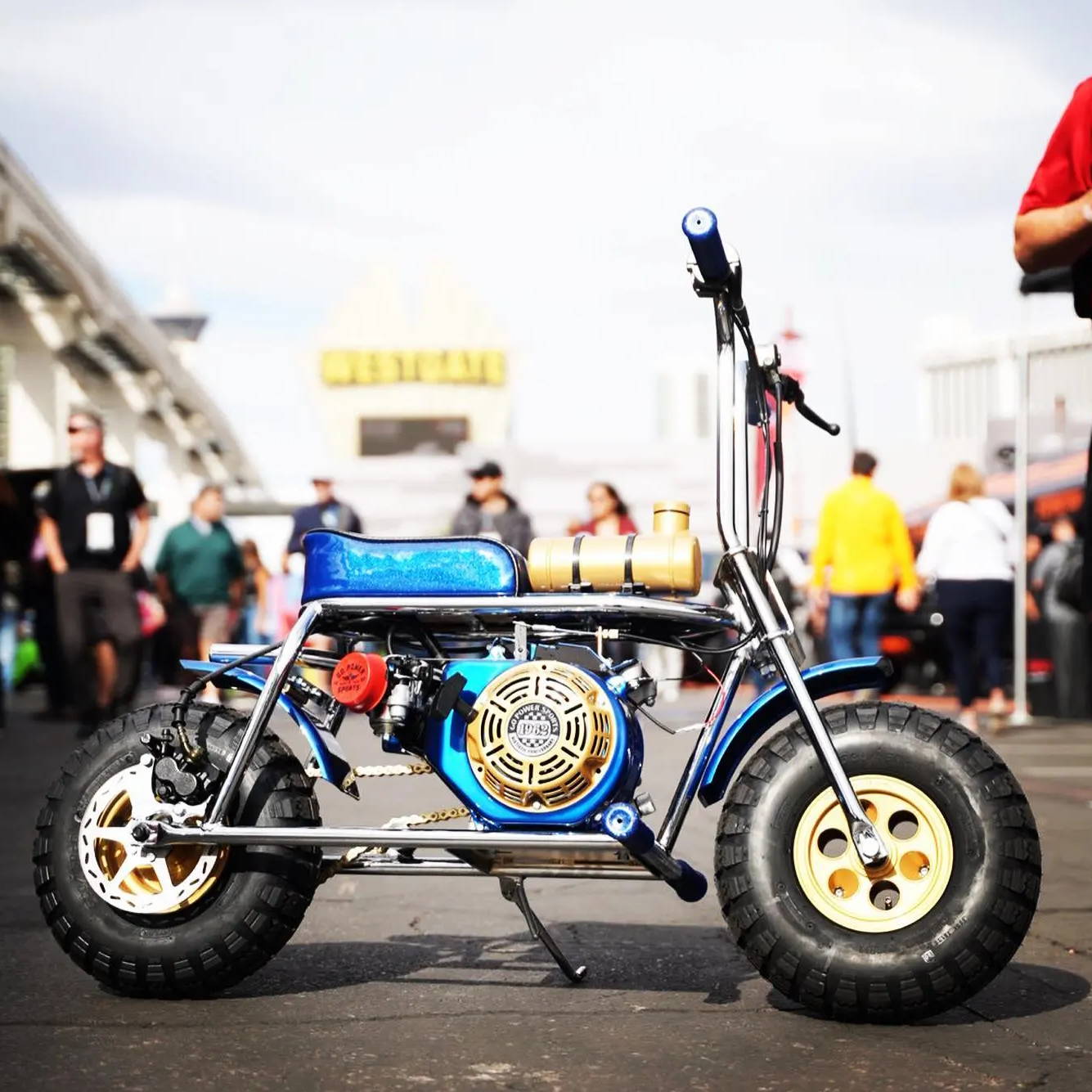 Viva Las Vegas! We took a Lil' Rascal and a Rascal Minibike and went with a "Show Chrome Quality". Winner of this raffle won both #7 and #8. A straight up, 2 for 1 deal. These little minibikes caught everyone's attention at the SEMA and SEMA ignited show.
Raffle Minibike #8|Las Vegas Code Red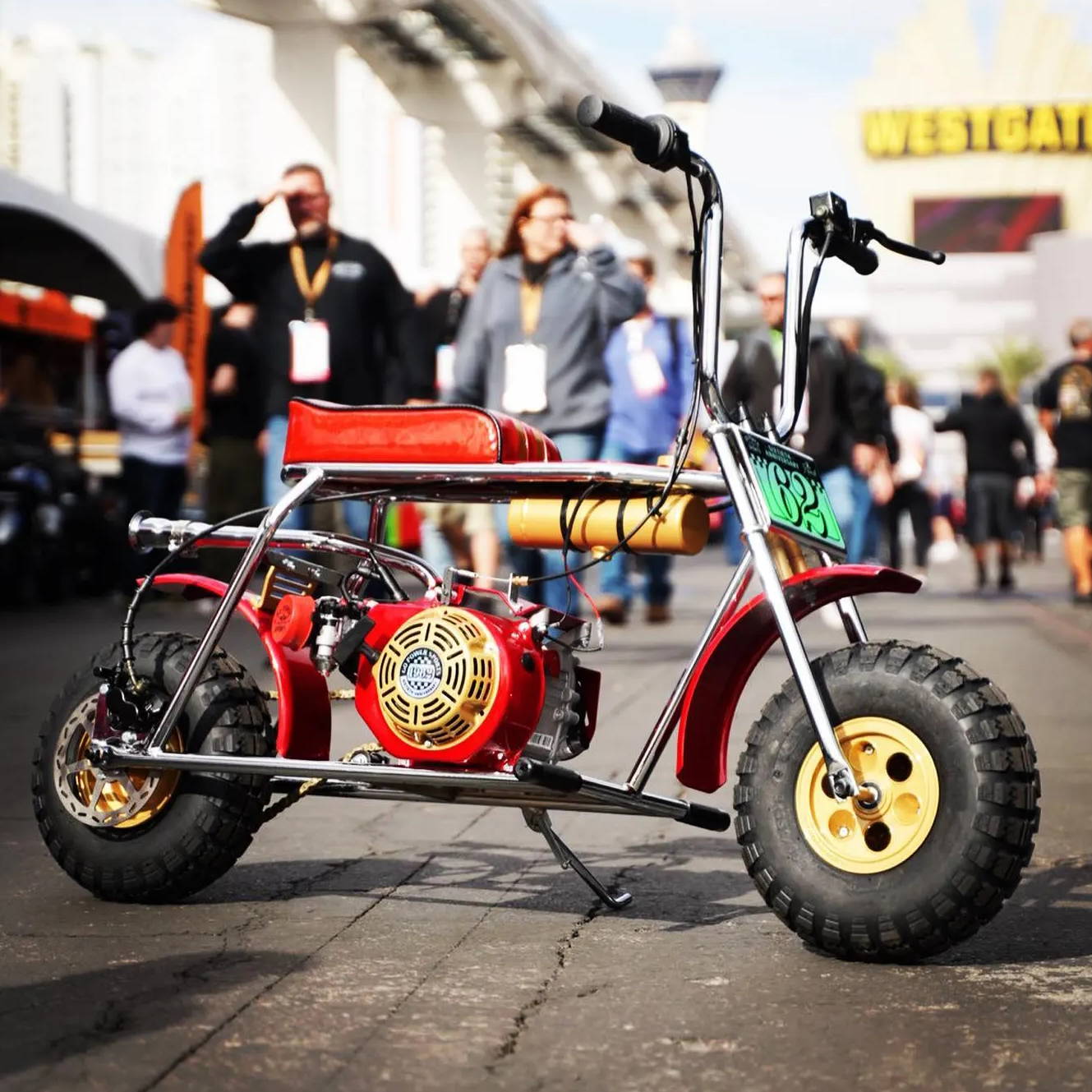 Code Red was the 2nd Raffle Minibike from Las Vegas. Show Chrome, red and gold. Even the seats had sparkle and would shine like crazy in the sun.
Raffle Minibike #9|Purple Rain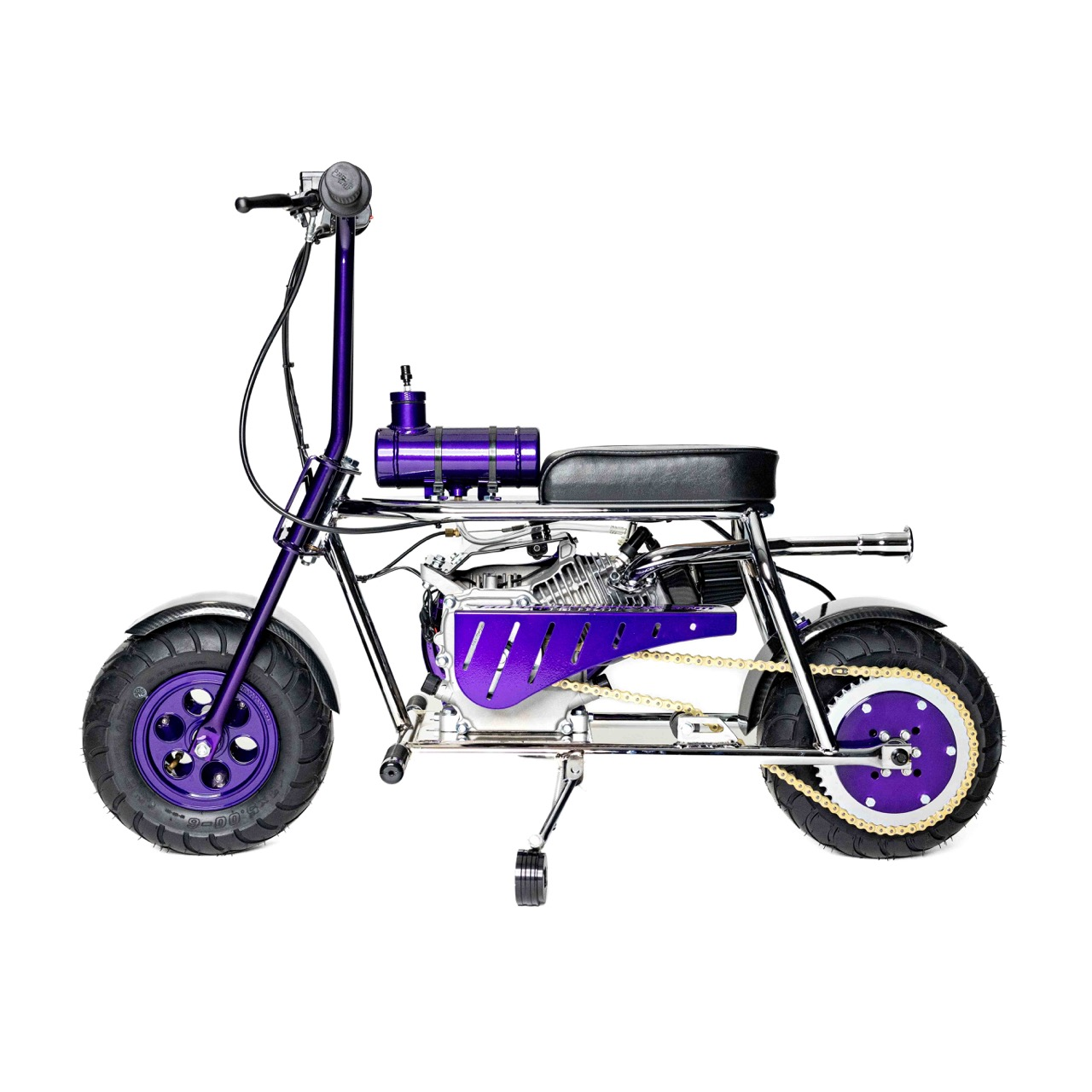 cue Purple Rain by Prince. We had a blast with this purple Lil' Rascal Minibike. Prince came down and helped us promote the minibike too. The Chrome and Purple theme was a fan favorite and the the carbon fiber dipped fenders were the icing on the cake. This minibike made it's way out to Tulsa, Oklahoma for the Daryl Starbird Hot Rod Show in 2023.
Raffle Minibike #10|Honest Abe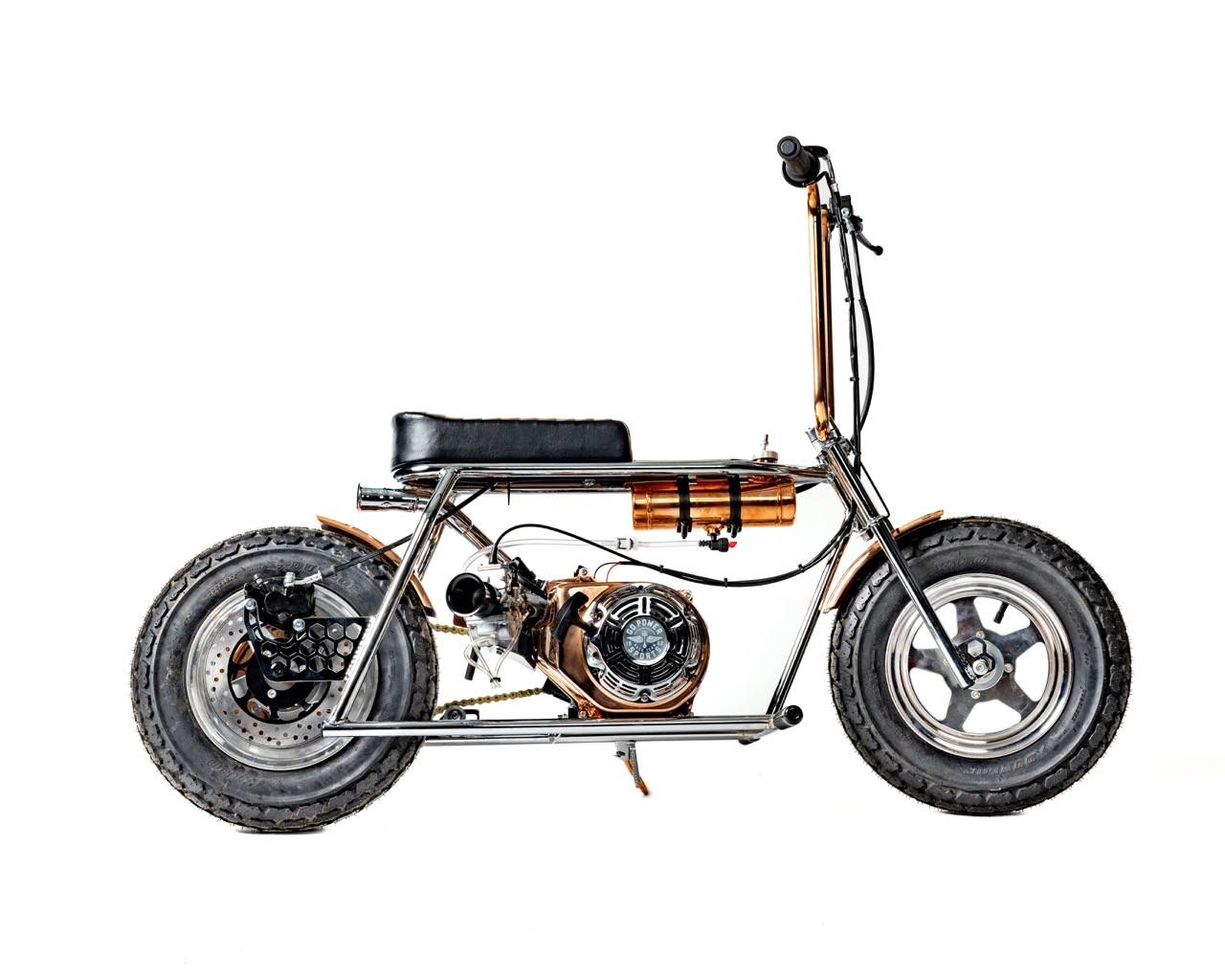 And last but not least, #10 is "Honest Abe". This is a slammed Rascal minibike frame with 10" Machined Aluminum Wheels. Chrome and Copper, this is hands down the most expensive minibike on the list. This build also inspired us to put this frame into production so that anyone can build this kit. It all came full circle when we raffled this minibike off at the 2023 Pate Swap Meet, a year later from the 1st minibike raffle. Stoked that our buddies down in Houston, @houston_faztboys won this minibike and are taking great care of it.
That's our 10 Minibikes that were raffled for Teen Life. Thank you to everyone who bought a ticket and congratulations to those who won one of the many prizes that were raffled off this year. If you want to see these raffles in action, be sure to check out our past Live videos on YouTube or watch the recap at the top of this page. We'll still be building minibikes in future so be sure to stay tuned.
To see more photos of all these Raffle Minibikes, check them out HERE.
Ride On.
-Jason Merrell, CMO