Good Day Race Team!
This blog was to inspire new comers and old timers to pick up a frame and performance parts to be competitive at your local Mini Bike Races or backyard shenanigans. The Mega Moto 80/105 frame is one of the most versatile frames that we have out here which makes it one of my favorite's to work with. Coleman also has the same frame. I suspect the Motovox frame will take this build as well. If you're local to us, you can take your Mega Moto Race Day Build to the track and be sure to look up the T.O.M.B. (Texas Outlaw Mini Bikes) race schedule on Facebook.
If you want a quick overview, you can check out our Youtube video of us putting this Mega Moto Race Day build together and sending it.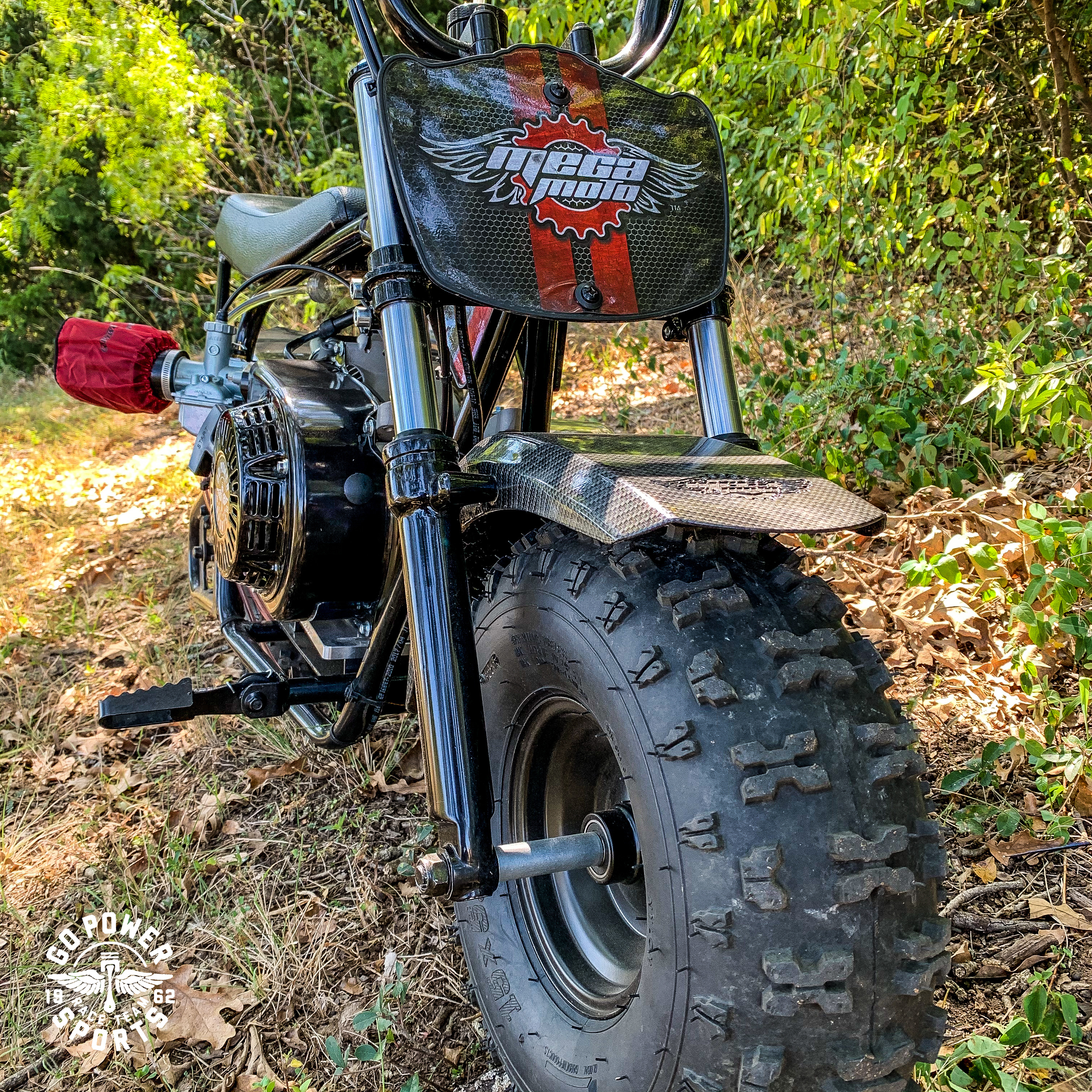 Mega Moto Frame: https://bit.ly/36DRxN3
Minibike Suspension Kit: https://bit.ly/34sj3Ks
15x5.5-6 Cleat Tire: https://bit.ly/3nsP65S
Carbon Fiber Fenders: Sorry guys, these were a 'one-off' fender kit that magically fell into our laps. We do not stock these.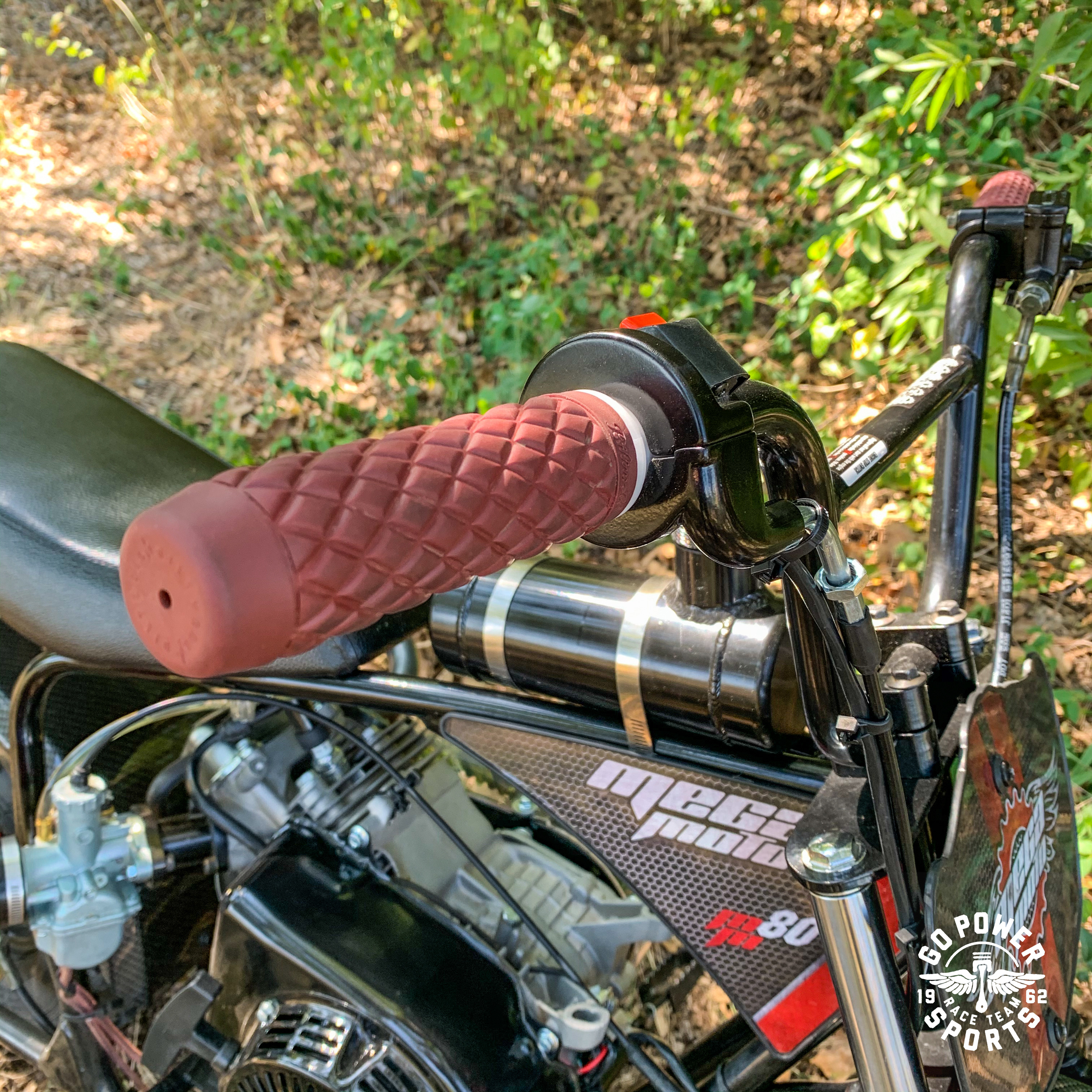 Handlebar Kit: https://bit.ly/34Dg7ep
Biltwell Torker Grips: https://bit.ly/34DtuLk
8" Gas Tank: https://bit.ly/36IPFCM
The one in the photo will be available soon, waiting on more stock.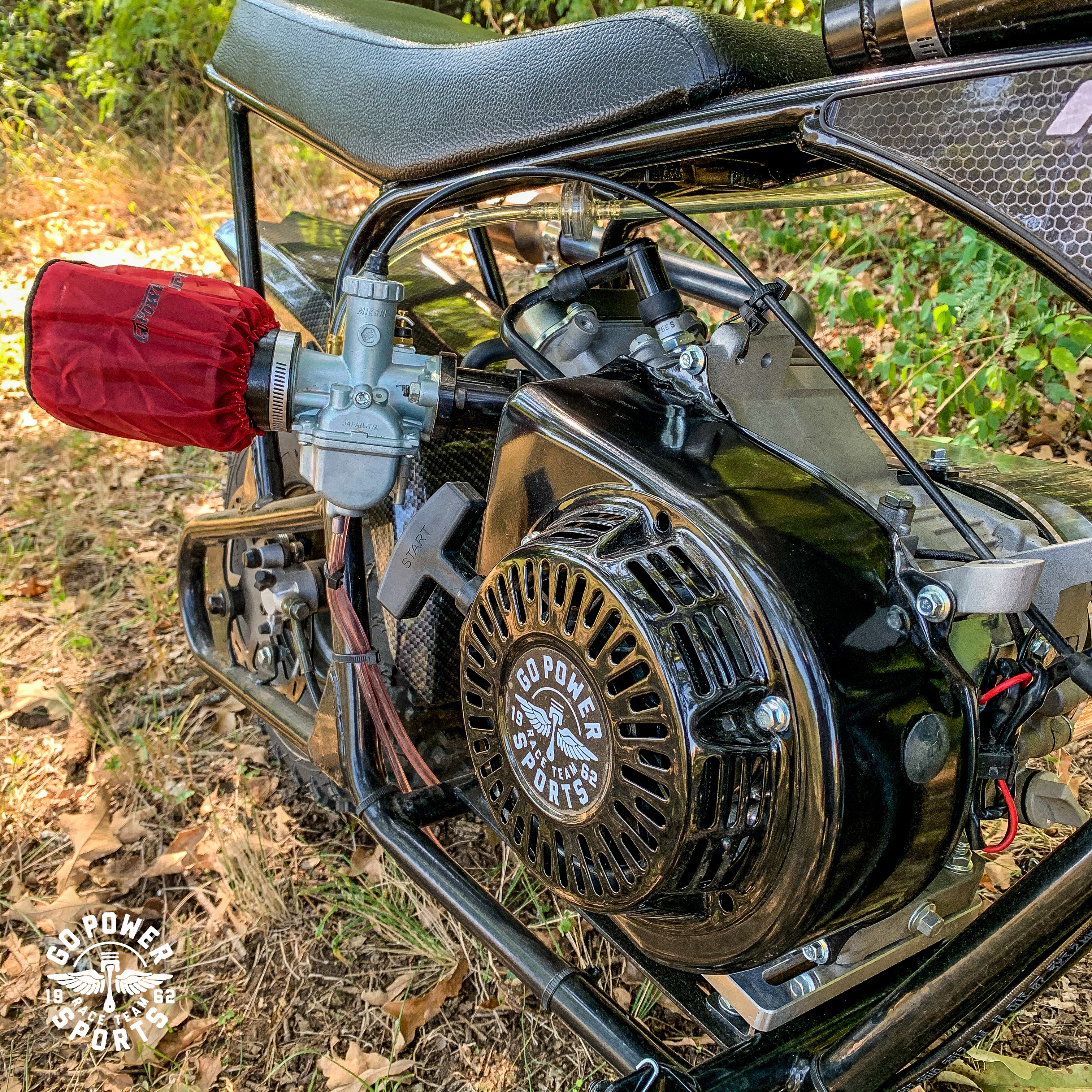 Tillotson 212E Engine: https://bit.ly/30ZBMMT
Stage 2 Tillotson Performance Kit: https://bit.ly/2GARQxh
22mm Mikuni Kit: https://bit.ly/2GzuisO
Uni Filter: https://bit.ly/3nrTkux
Air Filter Cover: https://bit.ly/36KHkhI
Black Blower Housing: https://bit.ly/36FQZpI
Pull Starter Assembly: https://bit.ly/34AeNZr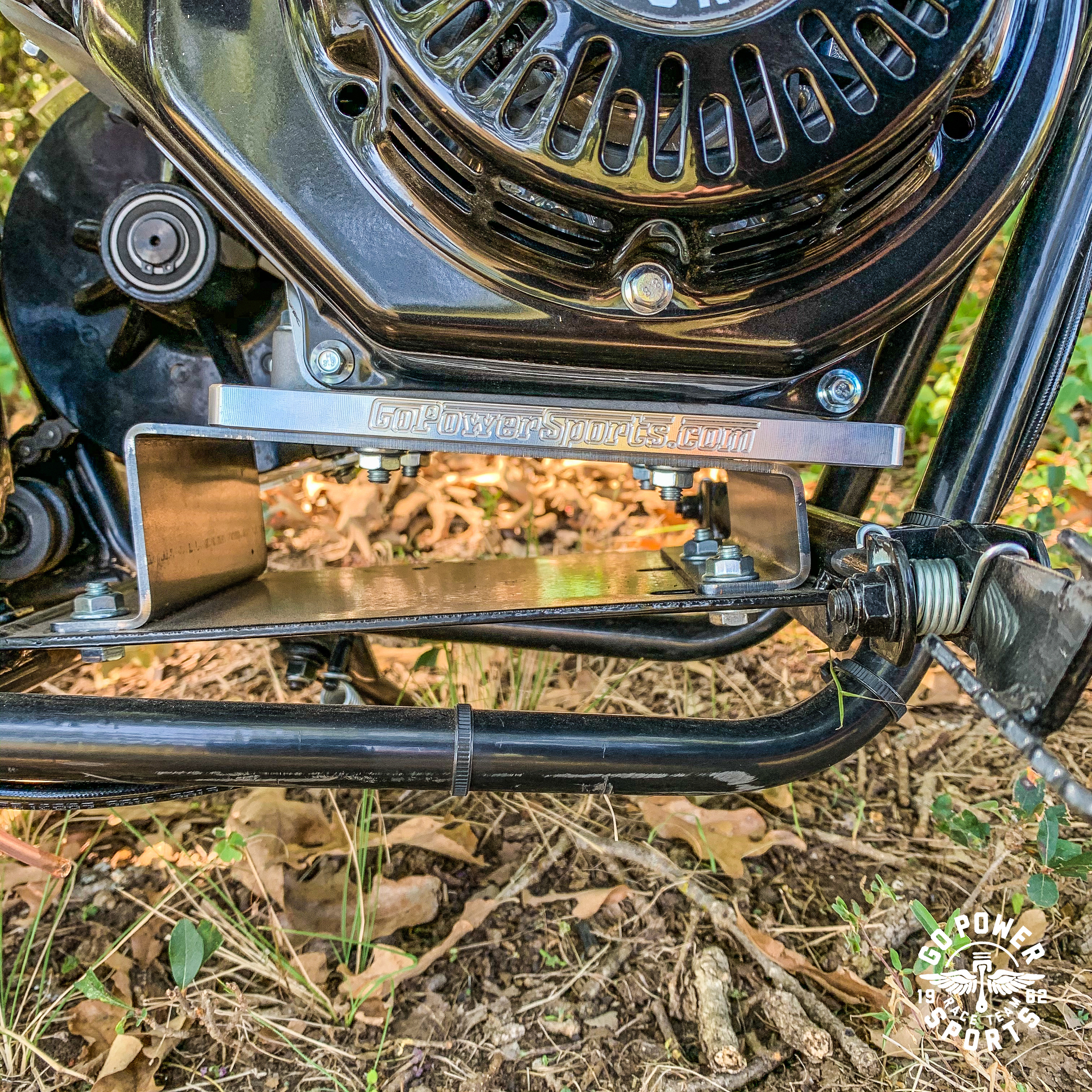 Mega Moto Adapter Plate: https://bit.ly/30GeUl2
You could use this Mega Moto Adapter Plate all by itself and run a chain driven centrifugal clutch. It'll bolt up and align your sprockets nicely. The clutch will need to be ran inboard. Along with using this plate, you will either need to use a Mikuni Carburetor Kit or our Stage 1 kit since the stock air box and muffler will not fit inside this frame. If you wish to run a 30 series kit or our Jugg-A-Verter, you will also need the full adjustable plate below.
Fully Adjustable Motor Plate: https://bit.ly/30Jtw39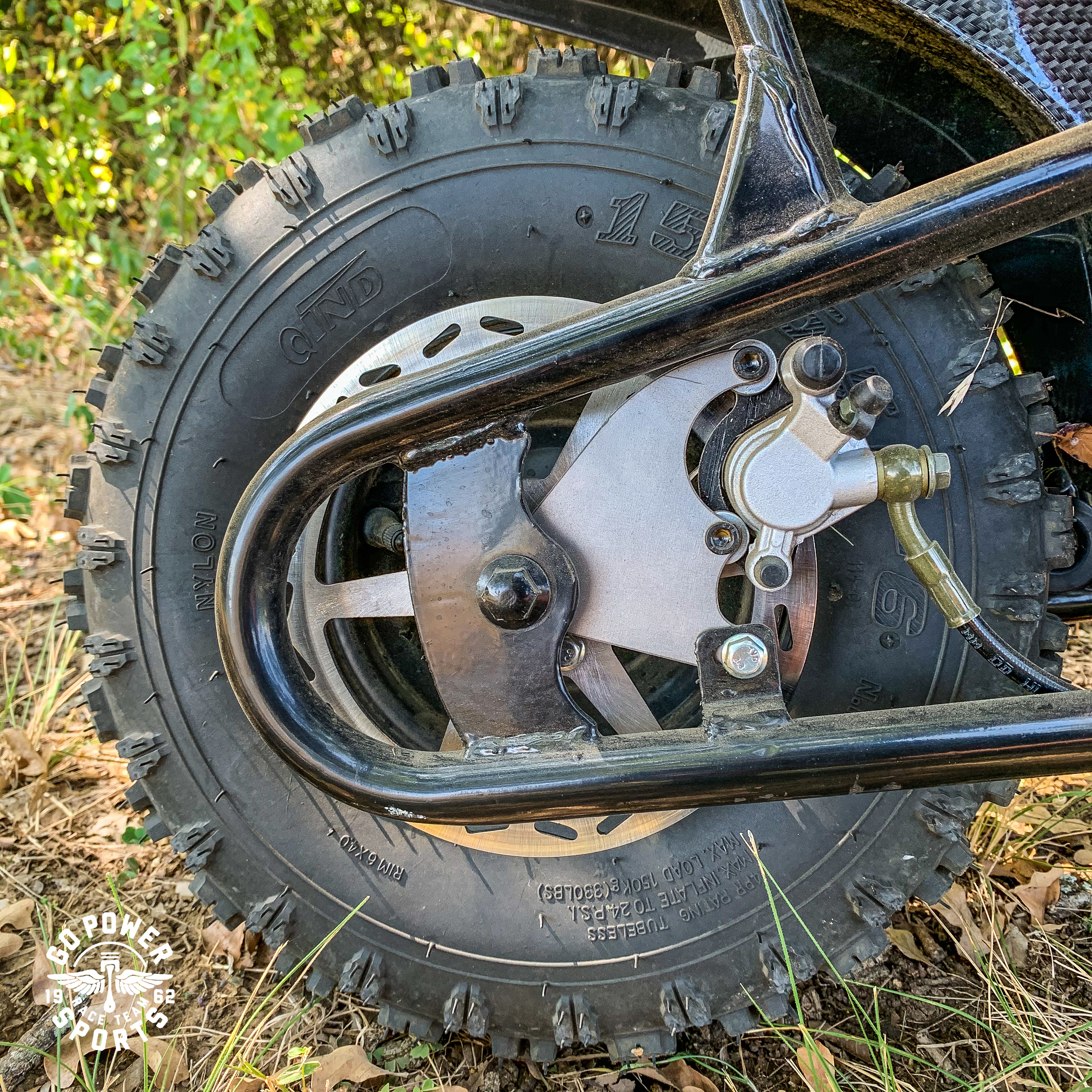 The stock red mechanical caliper won't last long with this much horse power, so we installed our Mini Bike Hydraulic Kit to help us stop. This can be mounted with our Mini Bike Brake Caliper bracket. You will need to create your own spacers, roughly 1/2" to go between wheel and bracket. We have the luxury of having a lathe in the shop, so we cut new spacers to fit like a glove. We also had to shim the hydraulic caliper to fit the brake disc placement. Our bracket is just a bracket since there are a few different variables for every frame out there.
Mini Bike Hydraulic System: https://bit.ly/3jEbt5W
Mini Bike Hydraulic Brake Caliper Bracket: https://bit.ly/3nrubAa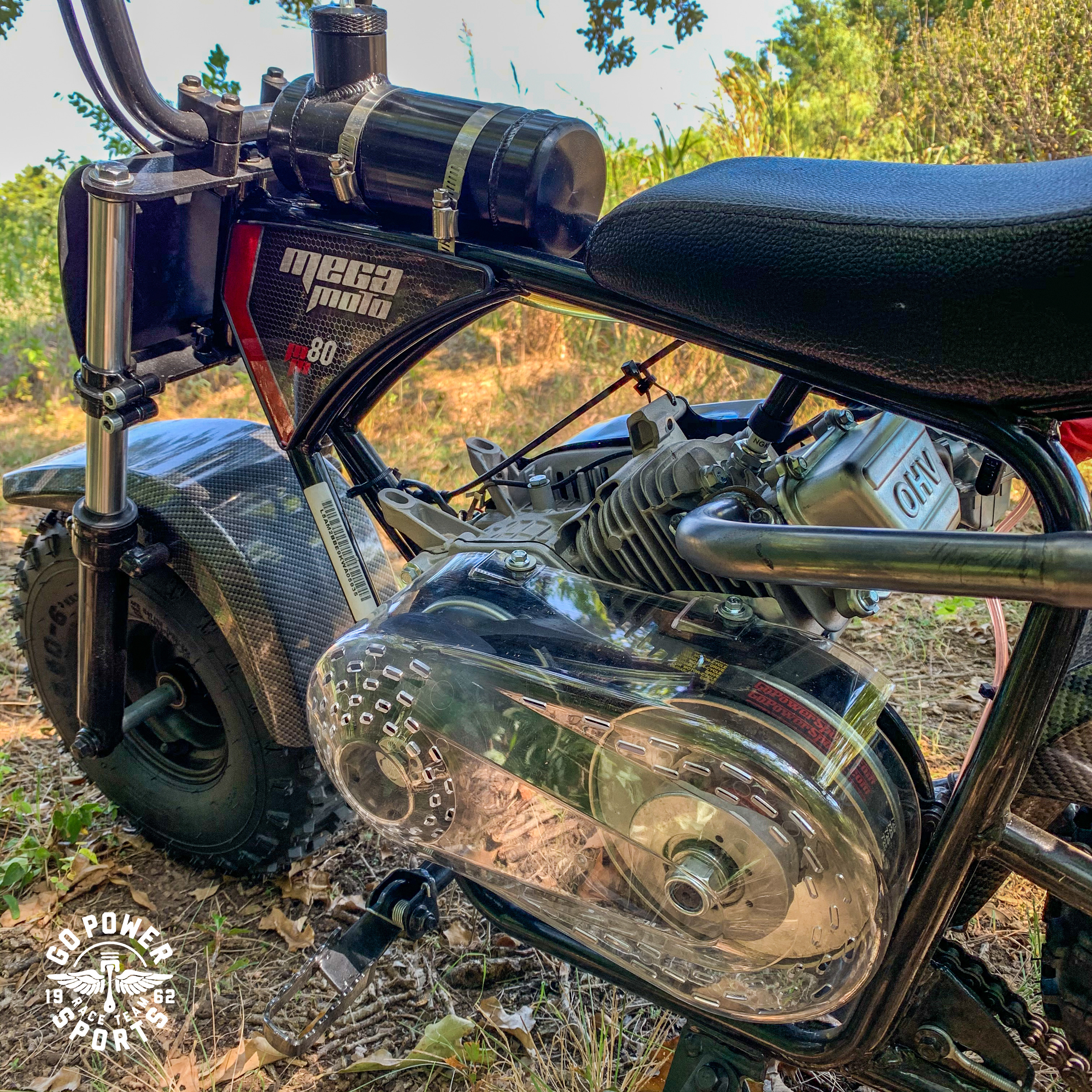 Jugg-A-Verter: https://bit.ly/3iLYoGI
The Jugg-A-Verter is a game changer. The Juggernaut Driver allows you to spin at a higher RPM (8500+ RPM) than a regular 30 Series Driver (5500 RPM). We have climbed mountains in Oregon with these clutches, seen these Juggernauts win races in Arizona, and is also great for turning your bike into a Wheelie-Monster. Try it out and see the difference.
Clear TAV Cover: https://bit.ly/3ns6JCL
Billet Washer 'Bling': https://bit.ly/2GyXwYM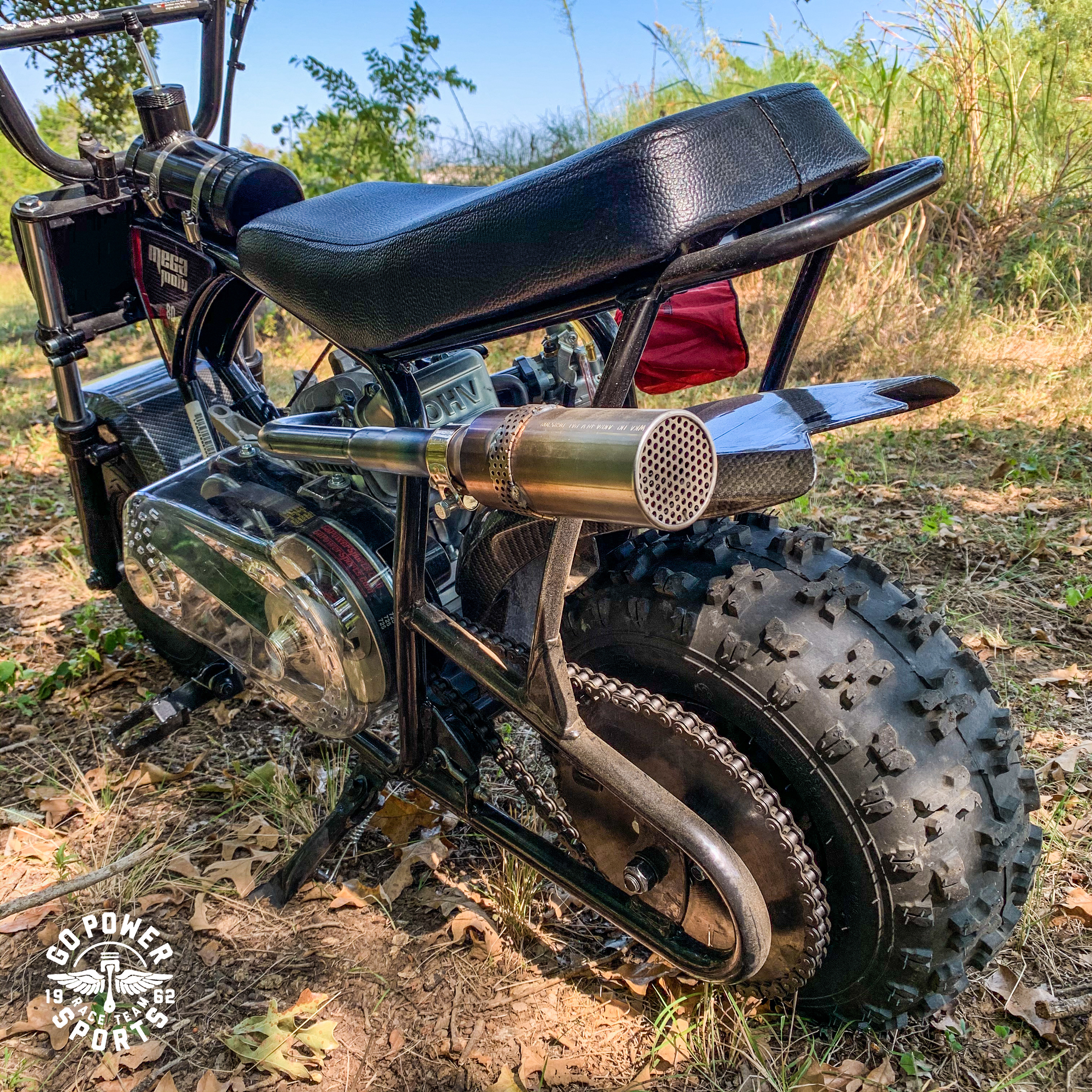 Side Exit Header Pipe: https://bit.ly/36GCuSB
1-5/16" RLV Muffler: https://bit.ly/34u9Z84
6 Hole #420 Sprocket: https://bit.ly/30EyWwo
Performance #420 Chain: https://bit.ly/3nrvI9o
And there you have it. You can build a brand new, clean Racing Bike that fits most of the racing qualifications. With this bike's set up:
Hot 265 Cam
6689 Flywheel
22mm Mikuni
54T Rear Sprocket
...we can get this bike up to 50+ MPH. Of course you can always go faster...
225/228 Tillotson Kit: https://bit.ly/3loRx7D
Hope to see you guys winning races soon, take care!