Trying to figure out which is the best minibike out there to suit your needs? Best value minibike? Best Looking Minibike? Truth is, the "beauty is in the eye of the beholder." Everyone has a different point of view on what a minibike should look like and how it should feel. So really, there is no wrong answer. With so many different minibikes out there from built to bought, it's hard to narrow it down. So we will stick with the minibikes that you can purchase and ride. Check out our list and see how it stacks up.
Best High End Minibike: The TrailMaster MB200-2
Fully featured and deemed the Cadillac of Minibikes. Let's see how many boxes this bike checks.
6.5HP Engine
Front & Rear Suspension**
Hydraulic Rear Brake
Torque Converter
Tall 19" Tires
Headlight
Rear Rack
Big Booty Seat
Is this really a minibike? Not much is 'mini' about this. I wouldn't put a kid on this bike, this is for big kids (or grown ups acting like big kids). (nothing wrong about it, just is what it is). The Jiang-Dong Chinese 6.5HP engine with this set up with top you out around 34-40 MPH. The 30 Series Torque Converter is a huge upgrade that comes standard on this bike. It helps with off-roading, climbing, and has a great pull right off the line. Going fast also means you may need to stop fast, that's why it's great that the TrailMaster MB200-2 comes standard with Hydraulic Brakes (most other brands have cable pulling a brake pad which isn't as great for stopping power).
Big wide seat, coupled with front and rear suspension makes the TrailMaster MB200-2 ride like a dream. A cloudy dream. There's nothing fun about chattering your teeth on a motorcross trail without suspension. Trust me, I've been there, done that. This level of comfort also proves to be Big Man approved. Whether it's a set of long legs or just a heavier set person, this bike will get you just about anywhere.
There are TONS of upgrades for this bike to turn it into a beast. (Check out our Gambler 500 bike.) There are a plethora of engine upgrades. Header Pipe upgrades. Motorcycle Gas Tank upgrade. Tire upgrade. This is a VERY popular bike in the minibike race community. Some may say "why not just buy a dirt bike?" And we just stare back at them and say "Because...we want a minibike."
Pros:
Torque Converter
Rear Hydraulic Brake
Front and Rear Suspension
Big Man Approved
Cons:
Highest Priced Minibike (but you get what you pay for)
Not a huge fan of the plastic fenders all around
Check out the TrailMaster MB200-2 here.
2022 Update: See the newest addition to the TrailMaster family, the Hurricane 200X!
Best Budget Build Minibike: The Mega Moto 80/105
One of my favorite frames for a minibike, the Mega Moto 80/105. Mega Moto also used this frame for their electric version, E1000. But Mega Moto is no longer around. Good news is that their assets were bought so that the Mega Moto frames and parts could still be purchased. You will now see them in a kit form and no longer available with an engine. Assembly would be required, but that would also save you some money. And you get the joy of putting it together. Pure unadulterated joy. The pride of putting a 2 wheel bike together and take the maiden voyage down the street is a pure bliss.
The Mega Moto 80/105 frame kit comes either with the rigid front end or the suspension front end. (I would do the Front Suspension kit, it may seem small but it makes a world of difference.). The engine mount dimensions are made for 79cc engines, but a simple Mega Moto Fully Adjustable Motor Adapter Plate will allow you to run a bigger 196/212/225 engine (gas tank would have to come off your engine to fit inside this frame). What's great about this minibike is that it will qualify for the majority of the Minibike Round Track Races, but would not recommend for a bigger off-road "Gambler" style race.
Even though Mega Moto is no longer producing full on minibikes, getting frames and parts is still easy to get your hands on. We've seen people put 10" rims on this bike, we've seen them extended out to become a drag bike, they're great just stock with a small engine for a neighborhood cruiser.
Pros:
Budget Friendly
Highly Customizable
All Parts are Available
Can fit a 196/212/225 Small Block (without the gas tank)
Front Suspension option
Cons:
Check out the Mega Moto 80/105 Kit here.
Best Project Minibike: Lil' Rascal Minibike
Ah yes, the Lil Rascal Minibike by GoPowerSports. It has it's own niche, a minibike that is tiny...yet rideable. One of the smallest minibikes you can get and STILL be able to fit a 212cc Engine it. The Lil Rascal Minibike encompasses the spirit of Minibikin'. Small frame, light enough to carry around or throw in a van/truck/suv/jeep, yet the potential to be loud and fast enough to turn heads all around the neighborhood, car show, or your racing paddocks. (a Lil Rascal Kit was sent to Italy for a race car driver to ride around in his pits).
The kit comes in bare metal, ready to be painted or powdered to your vision. It's also a great kit for young learners who want to turn some wrenches. (no welding involved) Kids and adults alike can come together and feel proud of what they just built. Slap a 79cc engine on this bike and have your young ones learn how to ride. Throw in a 225 Engine a race us in the Lil Rascal Ring, a dirt round track used crown this year's champion. All parts for this kit are readily available and can easily be customized as well. If you're looking for passion project and have a beautiful side piece for your garage, pits, or shows...this is your kit. A ton of pride goes into each Lil Rascal Minibike that gets built.
Pros:
Highly Customizable
Smallest Minibike to fit a 196/212/225 Small Block Engine
Project bike from start to finish
Parts readily available
Frame Made in the USA
Cons:
Not the cheapest minibike
No suspension option
Check out the Lil Rascal Minibike Kit here.
Best Big Brother Project Minibike: Rascal Minibike
If the Lil Rascal feels like it's too small, there's a big brother version called the Rascal Minibike. A good comparison for this bike's size would be a Doodlebug Minibike. The Rascal Minibike Kit comes bare frame for a fully customizable experience right off the bat. No welding required. A stock 212 engine with the gas tank, muffler, and air box will fit in this frame without having to modify the engine (which is good if you want to keep the engine noise down).
This frame has options for front suspension and comes standard with hydraulic rear brakes, which is a huge plus for stopping power. Comfortable size for teenager to adult. Could even slap a Torque Converter in here if you wanted more take off power or off-roading. The Rascal Minibike would be for the Minibiker who loves the feeling of putting together a vintage minibike, but hates tracking down every single part to get it rolling. These Rascal Kits have everything you need to get up going, just add an engine of your choosing.
Pros:
Bigger than a Lil Rascal Minibike (if that's what you want)
Front Suspension Option
Hydraulic Rear Brakes is standard
Highly Customizable
All parts readily available
Stock 196/212/225 Engine will fit as is
Cons:
Not the cheapest minibike in this size
Check out the Rascal Minibike Kit here.
Best Affordable Beginner Minibike: Coleman 200 Series Minibikes
Coleman Powersports may be one of the most seen and recognized minibikes out there currently. Mainly because of their reach being sold in Walmart, Tractor Supply, and many other Big Box Stores. It is so stinking easy to purchase a minibike in a crate, add fuel and just ride. Affordable and easy to start, which pleases many consumers. Coleman has a variety of minibike models: CT200U, CT200EX, BT200, RB200, along with smaller frames too. Performance upgrades are easily available for the Coleman Minibikes.
The Coleman Minibikes lack many features, which makes it more affordable. Rear drum brake is sufficient, but not as good as hydraulics. Chain clutch driven, which isn't ideal for this size of minibike (ideally you would want a torque converter on these 8" rimmed minibikes). The stock engine comes with an EPA Carburetor, which means you are not able to swap out to performance jets to yield you more horse power (you'd have to buy an all new carburetor).
And the biggest drawback from buying a Coleman Minibike...is the small 16mm Engine Crankshaft. What a huge bummer here. This means that you can not buy regular Clutches or a regular Torque Converter. You have to buy Coleman specific units to fit the 16mm, which is not common, which also makes these parts more expensive. This also means that you do not want to upgrade this Hisun 196cc Engine's internals. You won't want to upgrade an engine with a small crankshaft, you need the 3/4" crankshaft to be better withstand all the horsepower you want to push through it. Regular Stage 2 Clone kits will not fit properly in here as well. You would be better off swapping the engine with a Tillotson/Predator/Clone Engine, something that parts are easily available. But this only matters if you want more power. If you plan on leaving your minibike stock, then this last paragraph should deter you.
Pros:
Affordable
Mostly Assembled
Easy to get a hold of one
Cons:
Rear Brake Drum
Chain Clutch Driven
EPA Carburetor
16mm Crankshaft
Check out Coleman Performance Parts here.
Best Minibike for Durability: Mega Moto 212 Pro
If you want a bike that can take a licking and keep on ticking, look no further than the Mega Moto 212 Pro Minibike. This thing is stout. All around. Beefy tubes that measure out to around 1.314" in diameter. This hardtail comes with front suspension that helps this bike ride like a dream. The frame sits lower to the ground than most big wheeled minibikes, which makes this feel like a comfortable cruising bike. The other positive on this hardtail is that since your chain isn't adjusting back and forth with the rear suspension, then there's less chance of you throwing chain. We know from experience on this. The Gambler 500 Minibike race in Oregon showed us how durable this bike was. The Mega Moto 212 won the team event and mainly because it never broke down. The TrailMaster MB200's were fast and more comfortable, but when you're throwing chain left and right, those break downs really slow you down. (we have since added a chain tensioner and a chain guide to the TrailMaster MB200 Gambler bike)
This bike comes in kit form and very easy to assemble (we even have a walkthrough video for it). Add a Tillotson 212 Engine and you've got yourself a durable race bike or even a stout cruiser. The kit currently comes with a headlight but you would need to do some mods to get this to hook this up. The braking is a huge plus on this big wheeled minibike with Front and Rear Hydraulic Brakes. Being able to brake in confidence helps a ton. This kit also currently comes with a 30 Series Torque Converter.
Pros:
Affordable Kit
Front Suspension
Front & Rear Hydraulic Brakes
Torque Converter Kit
Beefy Frame
Big Comfortable Seat
Cons:
I can't currently find a glaring con on this bike for that price.
Check out the Mega Moto 212 Pro Minibike Kit here.
Choosing a minibike can be a tough decision. Good thing their mini enough where you could have at least 2 in your garage...or more. :) Good luck on decisions and have fun with it. Take care Race Team!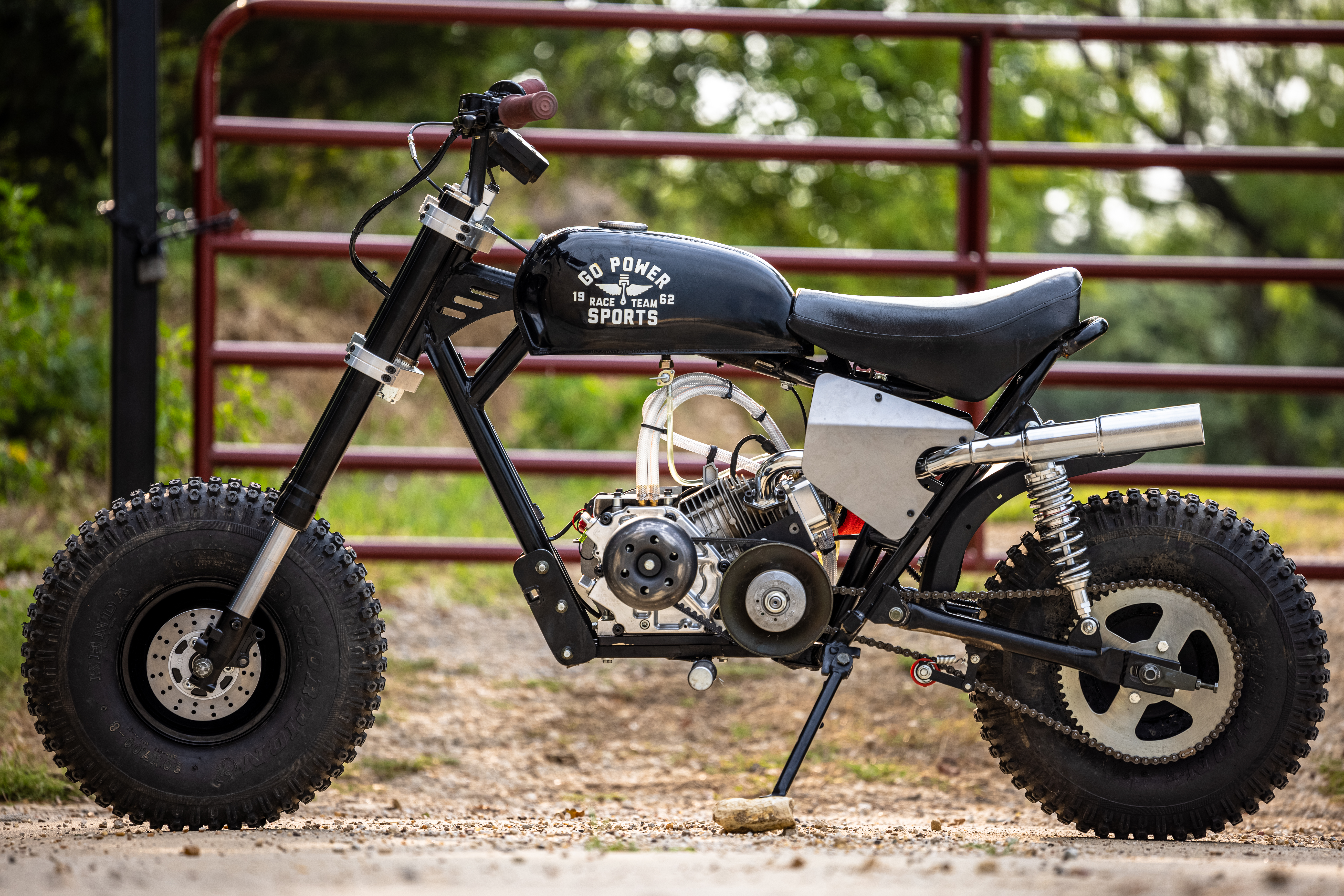 Here's a pic of our Gambler TrailMaster MB200-2. #canonr5